1977 Kenwood 700C Stereo Control Amplifier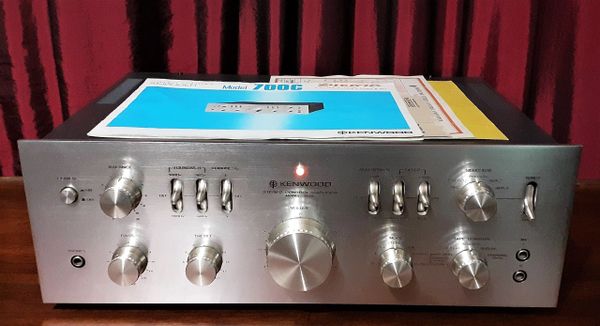 1977 Kenwood 700C Stereo Control Amplifier
1977 Kenwood 700C Stereo Control Amplifier. Cleaned and tested fully operational. Cosmetically graded NM (Near Mint) for mild signs of age and wear. Comes with original owner's manual, factory data sheet and factory warranty paperwork. The 700M is simply impressive in every aspect. This exquisite preamp delivers a pitch perfect full-bodied soundstage with amazing sound resolution and amplitude. The Kenwood open convection cooling design allows the preamp to run cool even after many hours of continual use. Thick brushed aluminum faceplate and substantial brushed aluminum knobs provide striking beauty and comfortable, easy of control. A top-of-the-line classic by Kenwood.
Specifications
Year: 1977
Country: Japan
Frequency response: 20Hz to 20kHz
Total harmonic distortion: 0.04%
Input sensitivity: 2.5mV (mic), 2.5mV (MM), 150mV (DIN), 150mV (line)
Signal to noise ratio: 70dB (mic), 70dB (MM), 85dB (DIN), 85dB (line)
Output: 150mV (line), 30mV (DIN), 1.5V (Pre out)
Dimensions: 440 x 145 x 300mm
Weight: 9.5kg
- $110 shipping anywhere in the Continental US
- All Checkered Records stereo equipment is cleaned, tested and guaranteed for 10 days after receipt.