1979 Philips GA 312 Electronic Turntable Made In Holland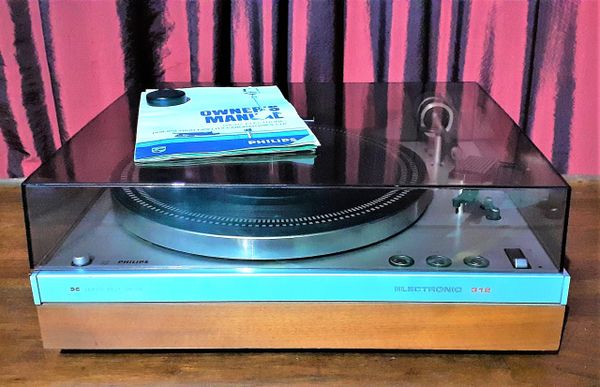 1979 Philips GA 312 Electronic Turntable Made In Holland
1979 Philips GA 312 Electronic Turntable Made In Holland. Cleaned and tested fully operational. Cosmetically graded NM- (Near Mint Minus) for mild to moderate signs of age and wear. Comes with original owner's manual (VG) and Pickering XSV/3000 cartridge and manual. The GA 312 offers European styling and quality performance synonymous with turntables made in Holland.  A top-notch player with smooth electronic controls and a dual slide weight/counterweight tone arm. The tachno-generator speed control assures consistent speed of the solid aluminum platter. Both platter and pick-up arm are mounted on a spring suspended sub-chassis that absorbs mechanical shocks and external vibrations. The GA 312 delivers classic 1970s styling and high-quality performance.
Specifications
Year: 1979
Country: Holland
Drive method: belt drive
Speed control: electronic
Speeds: 33 and 45rpm
Speed adjustment range: +-3%
Wow and flutter: 0.1%
Rumble: 62dB
Arm friction: 15 mgf
Stylus force: 0.75 to 4g
Line Voltage: 120V
Line Frequency: 60 Hz
Power Consumption: 5W
Weight: 15 lbs.
Dimensions: 15.5" X 13.5" X 5.75"
- $60 shipping anywhere in the Continental US
- All Checkered Records stereo equipment is cleaned & tested and guaranteed for 10 days after receipt.