Vintage Deutsche Märsche 1981 US Communications Archives, Inc. ‎CAM-377 Vinyl LP Record Album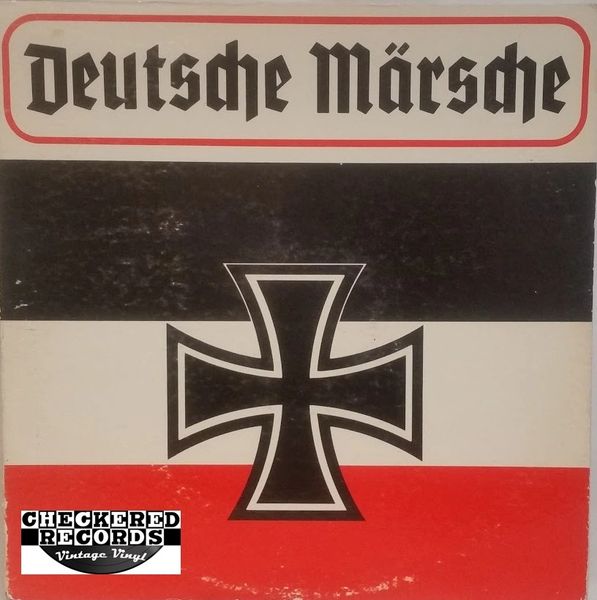 Vintage Deutsche Märsche 1981 US Communications Archives, Inc. ‎CAM-377 Vinyl LP Record Album
Various ‎Deutsche Märsche
Label: Communications Archives, Inc. ‎CAM-377
Format: Vinyl, LP, Stereo
Country: US
Released: 1981
Genre: Brass & Military
Style:
Tracklist
A1 Fridricus-Rex Grenadier Märsche
A2 Sedan Märsche
A3 Preussens Gloria
A4 Zwei Kampfmärsche-Mollwitzer Märsche, Togauer Märsche
A5 Erika
A6 Ulmer Fischermärsche
B1 In Treue Fest
B2 Hakenkreuzschwur
B3 Deutschlands Heldensöhne
B4 Ruhmesmärsche Der Alten Armee-Potpourri Of Eight Traditional Marches
B5 Nun Danket Alle Gott
Bar Code: None
Matrix#: Side 1- CAM-377-001
Matrix #: Side 2- CAM-377-001
Media (stock photo): NM- (several minor surface scratches)
Sleeve (stock photo): NM- (mild to moderate ring wear)
7 Day 100% Satisfaction Guarantee!
$4 FLAT RATE SHIPPING 1-100 ALBUMS USPS Media Mail!!!
Orders of $50 or more require customer signed delivery confirmation.
DON'T SEE IT ONLINE? WE GOT IT....331-725-1218 or info@checkeredrecords.com