Vintage Neil Merryweather ‎Space Rangers First Year Pressing 1974 US Mercury ‎SRM-1-1007 Vinyl LP Record Album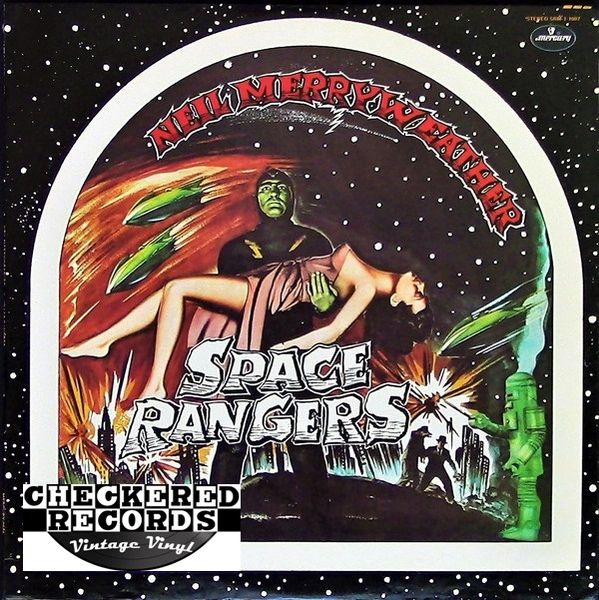 Vintage Neil Merryweather ‎Space Rangers First Year Pressing 1974 US Mercury ‎SRM-1-1007 Vinyl LP Record Album
Neil Merryweather ‎Space Rangers
Label: Mercury ‎SRM-1-1007
Format: Vinyl, LP, Album
Country: US
Released: 1974
Genre: Progressive Rock
Style: Progressive Rock
Tracklist
A1 Hollywood Blvd.
A2 Step In The Right Direction
A3 Eight Miles High
A4 King Of Mars
A5 Neon Man
B1 Sunshine Superman
B2 Road To Hades
B3 High Altitude Hide N' Seek
B4 Escape
B5 Sole Survivor
Bar Code: None
Matrix#: Side 1- SRM-1007-A-CP4-1 KENDUN
Matrix #: Side 2- SRM-1007-B-CP4-1 KENDUN
Media (stock photo): NM- (track 1 side 2 has small ink circle/check mark)
Sleeve (stock photo): NM- (with dust jacket liner notes, mild ring wear, small clean circle punch-out hole)
7 Day 100% Satisfaction Guarantee!
$4 FLAT RATE SHIPPING 1-100 ALBUMS USPS Media Mail!!!
Orders of $50 or more require customer signed delivery confirmation.