Audio Alchemy Digital Decoding Engine v1.1 DAC With Power Station One High Current Power Supply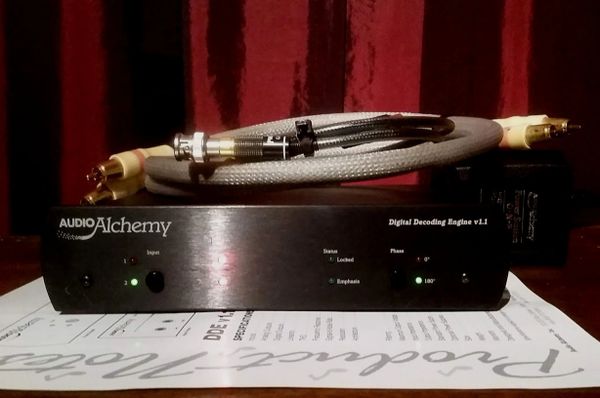 Audio Alchemy Digital Decoding Engine v1.1 DAC With Power Station One High Current Power Supply
Audio Alchemy Digital Decoding Engine v1.1 DAC With Power Station One High Current Power Supply. Tested and in excellent working condition. Comes with Power One power supply, heavy gold plated RCA plugs, BNC plug and factory specs sheet. This high-end DAC offers a full-function outboard digital processor. Coaxial and optical inputs are provided on RCA and Toslink jacks with a front-panel selector switch. The front panel also includes an absolute polarity switch and three LEDs that indicate when the unit is locked to an incoming digital signal, and that the analog and digital power supplies are working. An amazing D/A!
Specifications
Country: USA
Year: 1990s
Linearity: +2.0dB @ 100dB
THD: <0.1%
Frequency Response: 20Hz-20kHz +/-0.2dB
Signal-to-Noice Ratio:<-86dB
Resolution: 1B Bits
Input Impedance: 75 OHMS
Output Impedence: 75 OHMS
Accessories: Power Station One High Current Power Supply, Pictured Connectors
- All Checkered Records Stereo Equipment Is Cleaned & Tested and is Guaranteed For 10 Days After Receipt!
- Local Pick-up available Aurora, IL 60503
- $25 Shipping In Continental US Only