Authentic Original 1968 Cream, Taj Mahal, James Cotton Band Earl Warren Showgrounds Feb 1968 Concert Poster Frank Bettencourt 16.25" X 21.75" Concert Poster With Certification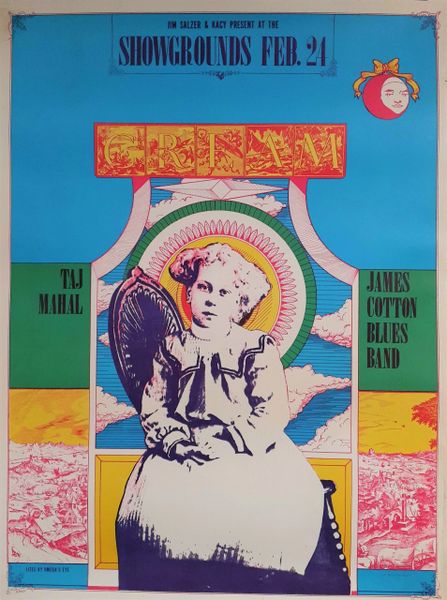 Authentic Original 1968 Cream, Taj Mahal, James Cotton Band Earl Warren Showgrounds Feb 1968 Concert Poster Frank Bettencourt 16.25" X 21.75" Concert Poster With Certification
Authentic Original 1968 Cream, Taj Mahal, James Cotton Band Earl Warren Showgrounds Feb 1968 Concert Poster Frank Bettencourt 16.25" X 21.75" Concert Poster With Certification
BAND: Cream, Taj Mahal, James Cotton Band Earl Warren Showgrounds Feb 1968 Concert Poster Frank Bettencourt 16.25" X 21.75" 
ARTIST: Frank Bettencourt 
YEAR: 1968  (2nd Printing)
VENUE: Earl Warren Showgrounds
MEDIA: Screenprint/ paper
FINISH: Flat
CONDITION: G+ 
DIMENSIONS: 16.25" X 21.75"
CERTIFICATION: Yes
The condition rating chart: 
NM: Poster is crisp, clean and almost perfect.
EX: Poster is almost new - may have very slight imperfections.
VG: Shows minor aging. Slight edge/corner and possible surface wear or slight creasing.
G: Visible signs of aging and wear (edge/corner/surface/tears). Possible discoloration and/or creasing/wrinkling.
F: Distinctive signs of aging and wear: Tears, pinholes, slight creases, edge/corner and surface wear. Possible tape restoration -- but simply still a very cool collectible piece.
P:  Has characteristics of FAIR condition but with irreversible damage or wear. Has historic / nostalgic value for a serious collector.