The Beatles Sgt. Pepper's Lonely Hearts Club Band MONO First Year Pressing 1967 US Capitol Records MAS 2653 Vintage Vinyl Record Album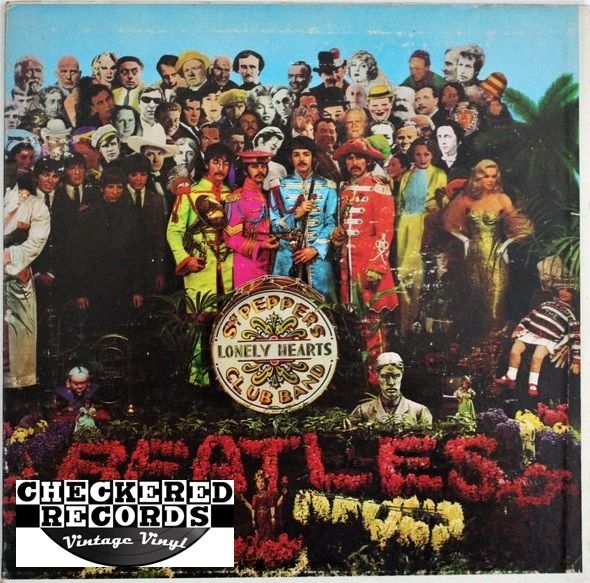 The Beatles Sgt. Pepper's Lonely Hearts Club Band MONO First Year Pressing 1967 US Capitol Records MAS 2653 Vintage Vinyl Record Album
The Beatles Sgt. Pepper's Lonely Hearts Club Band MONO
Label/Cat#:Capitol Records MAS 2653
Format: Vinyl, LP, Album, Mono, Gatefold
Country: US
Released: 1967
Genre: British Invasion Rock
Style: Psychedelic Rock, Popular Rock, Pop Rock
Tracklist
A1
Sgt. Pepper's Lonely Hearts Club Band
1:59
A2
A Little Help From My Friends
2:46
A3
Lucy In The Sky With Diamonds
3:25
A6
She's Leaving Home
3:24
A7
Being For The Benefit Of Mr. Kite!
2:36
B1
Within You Without You
5:03
B2
When I'm Sixty-Four
2:38
B4
Good Morning, Good Morning
2:35
B5
Sgt. Pepper's Lonely Hearts Club Band (Reprise)
1:20
B6
A Day In The Life
5:03
Bar Code: None
Media (stock photo): NM-
Sleeve (stock photo): NM- (with dust jacket, no insert_
7 Day 100% Satisfaction Guarantee!
$4 FLAT RATE SHIPPING 1-100 ALBUMS USPS Media Mail!!!
Orders of $50 or more require customer signed delivery confirmation.
DON'T SEE IT ONLINE? WE GOT IT....331-725-1218 or info@checkeredrecords.com
Checkered Records offers the best record albums for sale online. We make sure all our used vinyl records are top quality. All of our vintage record albums come with a seven day guarantee. If you're looking for used records for sale online then check out Checkered Records for the best in vintage vinyl records for sale online!