BSR EQ-1100 Equalizer BSR EQ-1100 Stereo Frequency EQ 1985 Black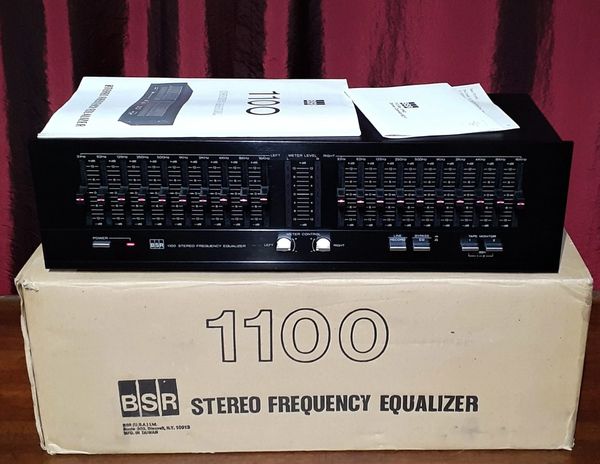 BSR EQ-1100 Equalizer BSR EQ-1100 Stereo Frequency EQ 1985 Black
BSR EQ-1100 Equalizer BSR EQ-1100 Stereo Frequency EQ. Cleaned and tested in excellent working order. Graded NM (Near Mint) for only minor signs of age and wear. Comes with original box/packaging and OEM manual! Time tested performance is guaranteed with the BSR EQ-1100. Handsome 1980s clean looks and top-quality sound control in this amazing EQ.
Specifications
Year: 1985
Country: US
Output Level: 1V
Gain: ± 1dB
Frequency response: 5Hz to 100kHz
Signal to Noise Ratio: 95dB
Total harmonic distortion: 0.018%
Control Range: ± 12dB
Frequency Bands: 31, 62, 125, 250, 500, 1K, 2K, 4K, 8K, 16KHz
Semiconductors: 10 x transistors, 27 x diodes, 3 x zener diodes, 15 x IC, 35 x LED
Dimensions: 430 x 160 x 114mm
Weight: 5kg
- All Checkered Records Stereo Equipment Is Cleaned & Tested and is Guaranteed For 10 Days After Receipt!