Crown IC 150A Pre Amplifier Crown IC 150A Integrated Circuit Stereo Console Pre Amp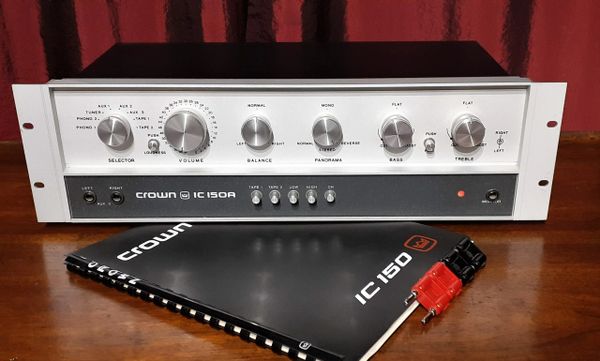 Crown IC 150A Pre Amplifier Crown IC 150A Integrated Circuit Stereo Console Pre Amp
Crown IC 150A Pre Amplifier Crown IC 150A Integrated Circuit Stereo Console Pre Amp. Tested in excellent condition and graded NM (Near Mint) for only minors signs of age. Comes with the OEM manual, paired banana clips and other original paperwork! The IC 150A has an amazing American build with rock solid craftsmanship and clean control layout. A Hi-Fi fan's dream!
Specifications
Year: 1979
Country: USA
Frequency response: 3Hz to 100kHz
Total harmonic distortion: 0.01%
Gain: 50dB (MM), 20.8dB (line)
Signal to noise ratio: 80dB (MM), 90dB (line)
Output: 2.5V (Pre out)
Semiconductors: 2 x IC, 12 x transistors, 1 x FET, 3 x zener diodes, 7 x diodes
Dimensions: 5-1/4 x 17 x 8-1/8 inches
Weight: 16lbs
- All Checkered Records Stereo Equipment Is Cleaned & Tested and is Guaranteed For 10 Days After Receipt!
- Local Pick-up available Aurora, IL 60503
- $65 Shipping In Continental US Only