Elvis Aloha From Hawaii Via Satellite 1974 US RCA VPSX-6089 Vintage Vinyl Record Album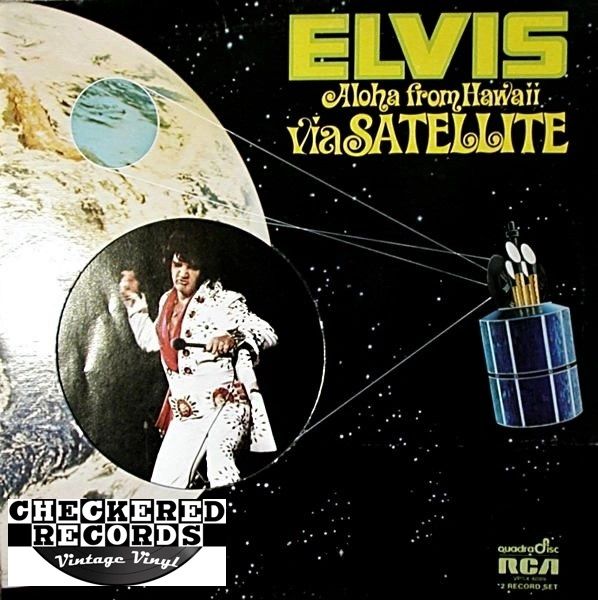 Elvis Aloha From Hawaii Via Satellite 1974 US RCA VPSX-6089 Vintage Vinyl Record Album
Elvis Aloha From Hawaii Via Satellite
Label/Cat#:
RCA VPSX-6089
Format:
2 x Vinyl, LP, Album, Quadraphonic, 1974 RE
Country: US
Released: 1974
Genre: Early Rock & Roll
Style:
Rock & Roll, Rock, Blues, Blues Rock
A1
Introduction: Also Sprach Zarathustra (Theme From 2001: A Space Odyssey)   1:44
A5
You Gave Me A Mountain   3:09
A6
Steamroller Blues   2:59
B3
Johnny B. Goode   1:39
B5
Blue Suede Shoes   1:05
B6
I'm So Lonesome I Could Cry   2:04
B7
I Can't Stop Loving You   2:21
C1
What Now My Love   3:04
C3
Welcome To My World   1:50
C4
Suspicious Minds   4:25   
C5
Introductions By Elvis
1:38
D1
I'll Remember You   2:27
D2
Medley: Long Tall Sally / Whole Lot-ta Shakin' Goin' On   1:51
D3
American Trilogy   4:11
D4
A Big Hunk O' Love   2:01
D5
Can't Help Falling In Love   1:42
Barcode: None
Media (stock photo): VG (solid sound guaranteed)
Sleeve (stock photo): VG (CR Pro seam repair, solid looks guaranteed, with original picture dust jackets)
7 Day 100% Satisfaction Guarantee!
$4 FLAT RATE SHIPPING 1-100 ALBUMS USPS Media Mail!!!
Orders of $50 or more require customer signed delivery confirmation.
DON'T SEE IT ONLINE? WE GOT IT....331-725-1218 or info@checkeredrecords.com
Checkered Records offers the best record albums for sale online. We make sure all our used vinyl records are top quality. All of our vintage record albums come with a seven day guarantee. If you're looking for used records for sale online then check out Checkered Records for the best in vintage vinyl records for sale online!