Judas Priest Screaming For Vengeance First Year Pressing 1982 US Columbia FC 38160 Vintage Vinyl Record Album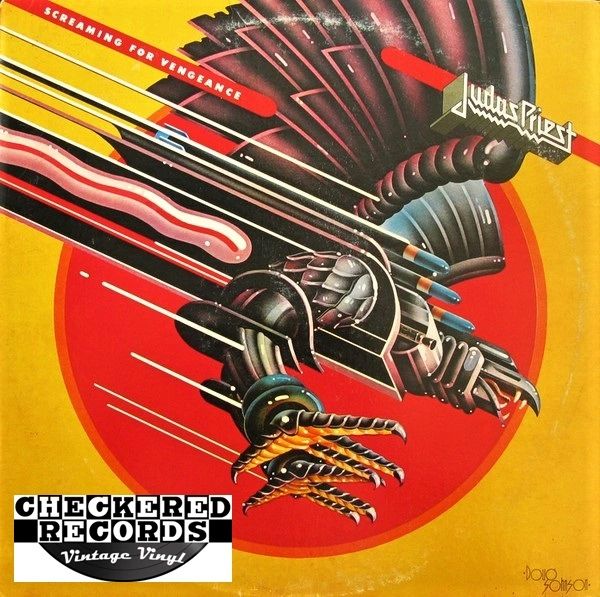 Judas Priest Screaming For Vengeance First Year Pressing 1982 US Columbia FC 38160 Vintage Vinyl Record Album
Judas Priest Screaming For Vengeance
Label/Cat#: Columbia FC 38160
Format: Vinyl, LP, Album, 
BONUS! 11/28/90 Painkiller Tour @ 
Rosemont Horizon
Rob Halford  "fan photo"
Country: US
Released: 1982
Style:
Heavy Metal, Hard Rock
Tracklist
A3
Riding On The Wind   3:07
A5
(Take These) Chains   3:07
A6
Pain And Pleasure   4:17
B1
Screaming For Vengeance   4:17
B2
You've Got Another Thing Coming   5:09
Bar Code: 0 7464-38160-1
Media (stock photo): NM-
Sleeve (stock photo): NM (with picture dust jacket, with merch. insert, open shrink with HYPE sticker, BONUS! November 28th 1990 Painkiller Tour @ Rosemont Horizon Rob Halford fan photo)
7 Day 100% Satisfaction Guarantee!
$4 FLAT RATE SHIPPING 1-100 ALBUMS USPS Media Mail!!!
Orders of $50 or more require customer signed delivery confirmation.
DON'T SEE IT ONLINE? WE GOT IT....331-725-1218 or info@checkeredrecords.com
Checkered Records offers the best record albums for sale online. We make sure all our used vinyl records are top quality. All of our vintage record albums come with a seven day guarantee. If you're looking for used records for sale online then check out Checkered Records for the best in vintage vinyl records for sale online!