Luxman PX-101 Fully-Automatic Tangential Tracking Turntable 1984 Silver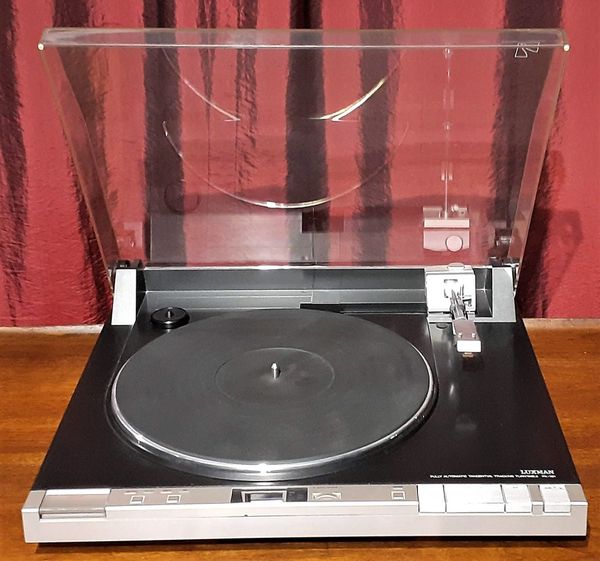 Luxman PX-101 Fully-Automatic Tangential Tracking Turntable 1984 Silver
Luxman PX-101 Fully-Automatic Tangential Tracking Turntable. Cleaned and tested in excellent working condition. Graded NM- (Near Mint Minus) for mild to moderate signs of age primarily a small hairline crack in the plastic dust cover. A handsome example ready for years of devotion. The PX-101 tangential tracking system plays records exactly as they were cut: in a straight line. Providing near-zero deviation from the cutting process, near-zero tracking error and near-zero tracking distortion. Music sounds cleaner, with better separation between channels, better separation of instruments within the orchestra, and a far more vivid recreation of the sound stage.
Specifications
Year: 1984
Country: Japan
Driving system: direct drive system
Motor: brushless and slotless DC servo motor
Platter: 295mm aluminium diecast
Speeds: 33 and 45rpm
Pitch control: +-3%
Signal to noise ratio: better than 70dB
Wow and flutter: no more than 0.045% WRMS
Tonearm: straight arm of static balance type
Effective length: 165mm
Cartridge weight: 5.5-10g
Cartridge height: 16-19mm
Stylus pressure: 0-3g
Dimensions: 440 x 115 x 405mm
Weight: 8.5kg
- All Checkered Records Stereo Equipment Is Cleaned & Tested and is Guaranteed For 10 Days After Receipt!
- Local Pick-up available Aurora, IL 60503
- $60 Shipping In Continental US Only