Marantz DA-2452 SG Collector's Edition Gold Dual Cassette Tape Deck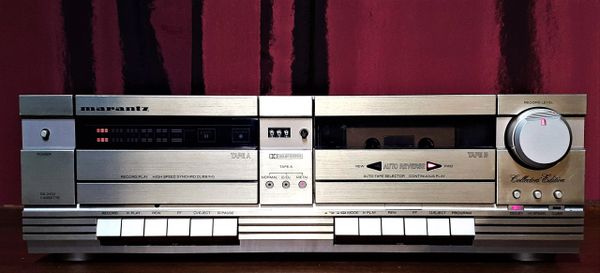 Marantz DA-2452 SG Collector's Edition Gold Dual Cassette Tape Deck
Marantz DA-2452 SG Collector's Edition Gold Dual Cassette Tape Deck. Cleaned and tested and with all new belts compliments of Checkered Records. This unit has been graded NM (Near Mint) for only light signs of age and wear. This 1980s Marantz tape deck oozes classic 1980s flash in stunning gold!
Year: 1986
Country: China
Speed: 1⅞ ips - 4.76 cm/s
Tape Capabılity: Chrome/Normal/Metal 
Head Configuration: 4 Track / 2 Channel
Connectivity: RCA Input/Output
Noise Reduction: Dolby-B Noise Reduction
Transport: Belt Drive (Capsŧan)
Mechanical Tape Loading
Auto Shutoff
Metered Display
3-Digıt Mechanical Counter
- All Checkered Records Stereo Equipment Is Cleaned & Tested and is Guaranteed For 10 Days After Receipt!
- Local Pick-up available Aurora, IL 60503
- $50 Shipping In Continental US Only