Marantz SR-3300 Receiver Marantz SR 3300 AM/FM Stereo Receiver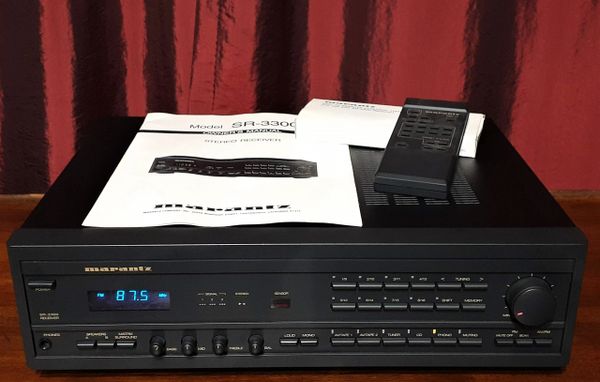 Marantz SR-3300 Receiver Marantz SR 3300 AM/FM Stereo Receiver
Marantz SR 3300 AM/FM Stereo Receiver. Cleaned and tested in excellent condition. Graded NM (Near Mint) for only light signs of age and wear. This great vintage Marantz comes with the OEM manual and boxed remote! A solid and capable Marantz receiver with lots of 1980s sleekness and style!
Specifications
Year: 1988
Country: Taiwan
Tuning range: FM, MW
Power output: 60 watts per channel into 8Ω (stereo)
Frequency response: 20Hz to 20kHz
Total harmonic distortion: 0.05%
Damping factor: 80
Input sensitivity: 2.5mV (MM), 150mV (line)
Signal to noise ratio: 80dB (MM), 90dB (line)
Speaker load impedance: 8Ω to 16Ω
Dimensions: 430 x 126 x 348mm
Weight: 9.8kg
Accessories: remote control
- All Checkered Records Stereo Equipment Is Cleaned & Tested and is Guaranteed For 10 Days After Receipt!