Masterworks SQ-440 Quadraphonic Stereo Receiver With 8 Track 1972 Walnut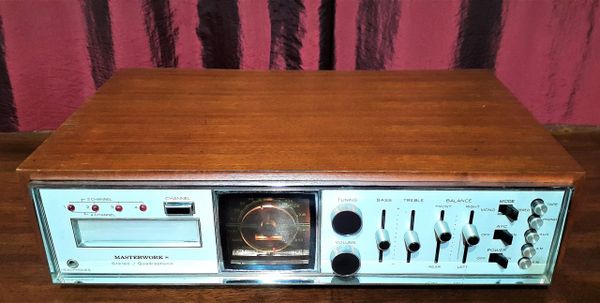 Masterworks SQ-440 Quadraphonic Stereo Receiver With 8 Track 1972 Walnut
Masterworks SQ-440 Quadraphonic Stereo Receiver. Cleaned and tested in excellent working condition. Graded NM- (Near Mint Minus) for mild to moderate signs of age and wear. This unit just received a new 8 track belt as well! This unit was made in the early 1970s by Columbia Records during their brief attempt to enter the retail Hi-Fi market. The SQ-440 offers the very basics… but with loads of charm and rugged good looks with its distinctive "clock face" radio dial. A solidly built and dependable entry level early 1970s Hi-Fi system!
Specifications
Year: 1972
Country: Japan
Tuning Range: FM, MW
Power Output: 15W (CH/STEREO)  6W (CH/QUAD) 
Frequency response: 20Hz to 20kHz
Total harmonic distortion: 1%
Damping factor: 30
Signal to noise ratio: 70dB (line)
Dimensions: 18.25" x 12" x 5"
Weight: 15.5 lbs.
- All Checkered Records Stereo Equipment Is Cleaned & Tested and is Guaranteed For 10 Days After Receipt!