NAD C440 AM/FM Stereo Tuner 1998 Battleship Grey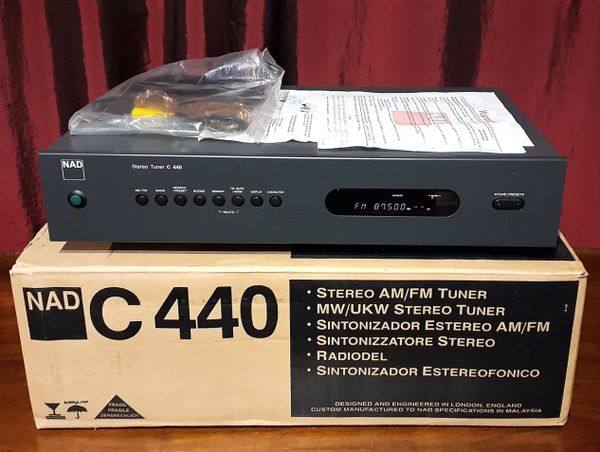 NAD C440 AM/FM Stereo Tuner 1998 Battleship Grey
NAD C440 AM/FM Stereo Tuner. Cleaned and tested in excellent operating order. Graded NM (Near Mint) for only minor signs of age and wear. Comes with the original box/packaging, AM antenna, FM antenna and warranty sheets. A solid high-end tuner by NAD that is sure to impress any Hi-Fi enthusiast!
Specifications
Year: 1998
Country: Malaysia
Type: Mono/Stereo Tuner
Tuning Bands: FM, MW
Tuning Scale: Digital
Sensitivity: 2.0uV (FM), 10uV (MW)
Signal to Noise Ratio: 40dB (MW)
Distortion: 0.15% (FM), 0.7% (MW)
Selectivity: 30dB (MW)
Frequency response: 30Hz to 15kHz (FM)
Dimensions: 435 x 80 x 290mm
Weight: 3.5kg
- All Checkered Records Stereo Equipment Is Cleaned & Tested and is Guaranteed For 10 Days After Receipt!