ONKYO TX-4500 MKII Stereo Receiver Quartz Locked Stereo Receiver Unit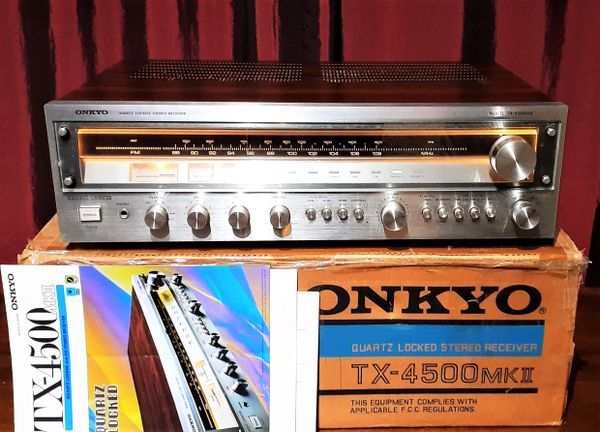 ONKYO TX-4500 MKII Stereo Receiver Quartz Locked Stereo Receiver Unit
ONKYO TX-4500 MKII Stereo Receiver Quartz Locked Stereo Receiver Unit. Tested, cleaned and in excellent condition. Its had a couple of old bulbs replaced along the way with newer light-emitting diode bulbs. Graded NM (Near Mint) for light signs of age and wear. This classic late 70s Hi-Fi gem comes with the original OEM manuals and original box! The TX-4500 MKII provides clean, powerful sound reproduction with tons of eye-dazzling 1970s flash! 
Specifications
Year: 1979
Country: Japan
Tuning range: FM, MW
Power output: 55 watts per channel into 8Ω (stereo)
Frequency response: 15Hz to 30kHz
Total harmonic distortion: 0.1%
Damping factor: 50
Input sensitivity: 2.5mV (MM), 150mV (line)
Signal to noise ratio: 65dB (MM), 80dB (line)
Output: 150mV (line), 1V (Pre out)
Semiconductors: 1 x FET, 70 x transistors, 8 x IC, 59 x diodes
Dimensions: 583 x 163 x 430mm
Weight: 16.6kg
- All Checkered Records Stereo Equipment Is Cleaned & Tested and is Guaranteed For 10 Days After Receipt!
- Local Pick-up available Aurora, IL 60503
- $70 Shipping In Continental US Only