Panasonic RE-7670D AM/FM Stereo Receiver 1972 Silver Walnut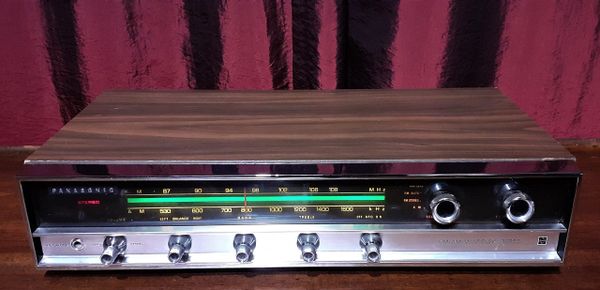 Panasonic RE-7670D AM/FM Stereo Receiver 1972 Silver Walnut
Panasonic RE-7670D AM/FM Stereo Receiver. Cleaned and tested in excellent working condition. Graded NM- (Near Mint Minus) for light signs of age and wear. The "stereo" light remains on in nearly all modes. Not sure if this is a part of Multiplex Stereo function or not. There is not a lot of specs available on this little fellow. The Panasonic RS-Line of receivers are great vintage entry-level receivers. It has all the looks and the basic functionality of the classic Hi-Fi systems with solid 1970s looks. These miniature receivers are also great for the swagged out office as well. Loads of looks with solid basic functionality.
Specifications
Year: 1972
Country: Japan
Power: 10 Watts (Per Channel)
Dimensions: 16.5" X 9.5" X 4
Weight: 10 lbs 6. oz
Finish: Chrome / Walnut Cabinet
- All Checkered Records Stereo Equipment Is Cleaned & Tested and is Guaranteed For 10 Days After Receipt!
- Local Pick-up available Aurora, IL 60503
- $50 Shipping In Continental US Only