Pioneer PD-F605 File Type Compact Disc Player CD Player 1995 Black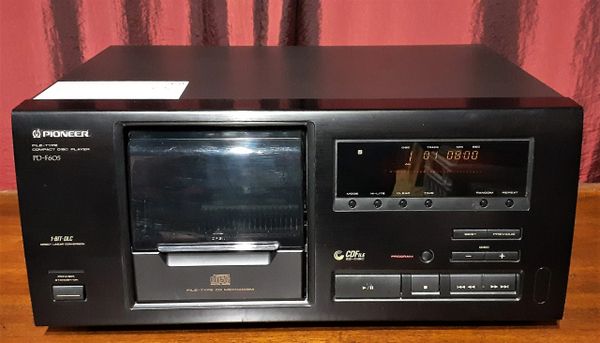 Pioneer PD-F605 File Type Compact Disc Player CD Player 1995 Black
Pioneer PD-F605 File Type Compact Disc Player CD Player. Cleaned and tested in excellent operating order. Graded NM (Near Mint) for only minor signs of age and wear. Pioneer PD-F605 is a "file type" 25 Disc CD player. With an ultra-cool action, this CD player looks and sounds killer!
Specifications
Year: 1995
Country: Malaysia
Disc format: CD (25 disc multi play)
Digital converter: 1 bit DLC
Frequency response: 2Hz to 20kHz
Signal to Noise Ratio: 90dB
Line output: 2V
Digital outputs: optical
Dimensions: 420 x 316 x 190mm
Weight: 4.8kg
Accessories: remote control not included
- All Checkered Records Stereo Equipment Is Cleaned & Tested and is Guaranteed For 10 Days After Receipt!