Pioneer PL-12D Turntable 1975 Red Oak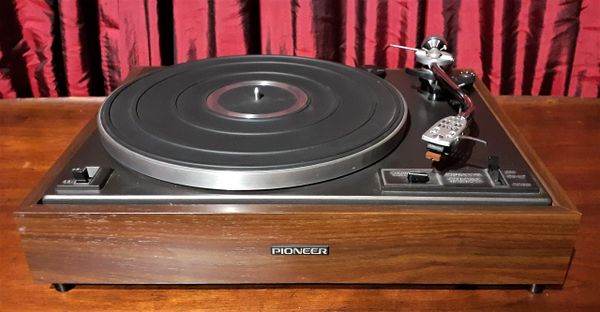 Pioneer PL-12D Turntable 1975 Red Oak
Pioneer PL-12D "Giant Killer" Turntable. Cleaned and tested in full working order. Graded VG (Very Good) for a missing dust cover and light signs of age. The Pioneer 12D offers excellent sound reproduction and a classic quality build.

Year: 1975
Country: Japan
Motor: 4-pole synchronous motor
Drive: belt driven
Speeds: 33 and 45rpm
Speed accuracy: 1.0% or less
Wow and flutter: 0.1% WRMS
Rumble: 47dB
Platter: 30cm aluminum alloy
Tonearm: s-shaped pipe
Effective length: 221mm
Dimensions: 430 x 160.5 x 349m
Weight: 7.5kg
Veneer: Red Oak
- All Checkered Records Stereo Equipment Is Cleaned & Tested and Is Guaranteed For 10 Days After Receipt!
- $65 Shipping In Continental US Only