Pioneer TX-9100 Stereo Tuner Professional FM/MW Stereo Tuner 1974 Silver Walnut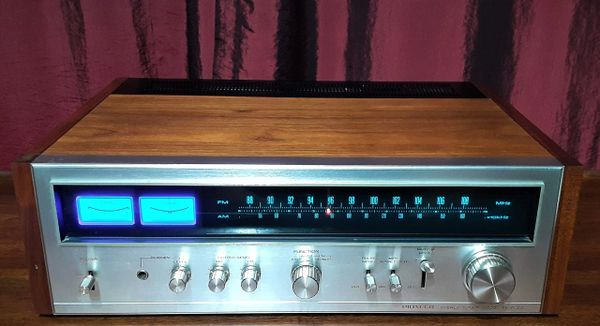 Pioneer TX-9100 Stereo Tuner Professional FM/MW Stereo Tuner 1974 Silver Walnut
Pioneer TX-9100 Stereo Tuner Professional FM/MW Stereo Tuner. Cleaned and tested in excellent working condition. Graded NM (Near Mint) for mild signs of age and wear. The TX-9100 is one of Pioneer's finest professional tuners ever produced with outstanding FM front end sound. Phase linear ceramic filters are used to create excellent selectivity and phase characteristics.  Special features include a pulse noise suppressor, 2 step FM muting switch, multipath output terminals, MPX noise filter, independent AM and FM output level controls, headphone output jack, dual meter tuning system and linear dial scale. One of the best vintage tuners still to this day! 
Specifications
Year: 1974
Country: Japan
Type: Mono/Stereo Tuner
Tuning Bands: FM, MW
Tuning Scale: Analogue
Sensitivity: 1.5uV (FM), 300uV (MW)
Signal to Noise Ratio: 75dB (FM), 50dB (MW)
Distortion: 0.3% (FM)
Selectivity: 90dB (FM), 40dB (MW)
Frequency response: 20Hz to 15kHz (FM)
Output: 650mV
Semiconductors: 6 x FET, 9 x IC, 35 x transistors, 27 x diodes
Dimensions: 430 x 138 x 345mm
Weight: 8.9kg
Year: 1974
- All Checkered Records Stereo Equipment Is Cleaned & Tested and is Guaranteed For 10 Days After Receipt!
- Local Pick-up available Aurora, IL 60503
- $60 Shipping In Continental US Only