Pioneer VSX-D711 Multi Channel Receiver With Recoton SP-2 PHONO Pre Amp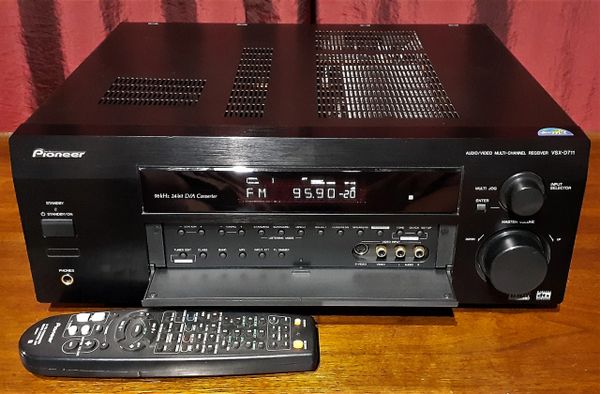 Pioneer VSX-D711 Multi Channel Receiver With Recoton SP-2 PHONO Pre Amp
Pioneer VSX-D711 Multi Channel Receiver With Recoton SP-2 PHONO Pre Amp. Cleaned and tested in excellent working order. Graded NM (Near Mint) for minor signs of age and wear. Comes with the original OEM remote control and Recoton SP-2 PHONO Pre Amp. The VSX-D711 offers a great soundstage along with Pioneer's amazing engineering and quality build. Professionally shipped with full insurance.
Specifications
Year: 2002
Country: Indonesia
Tuning range: FW, MW
Power output: 100 watts per channel into 8Ω (stereo)
Surround output: 100W (front), 100W (center), 100W (rear)
Frequency response: 5Hz to 100kHz
Total harmonic distortion: 1%
Input sensitivity: 200mV (line)
Signal to noise ratio: 96dB (line)
Output: 200mV (line)
Speaker load impedance: 8Ω to 16Ω
Digital inputs: coaxial, optical
Video Connections: composite, SVHS
Dimensions: 420 x 158 x 401mm
Weight: 10kg
Accessories: remote control (included)
- All Checkered Records Stereo Equipment Is Cleaned & Tested and is Guaranteed For 10 Days After Receipt!