Project One Mark IIB Stereo Receiver Silver 1979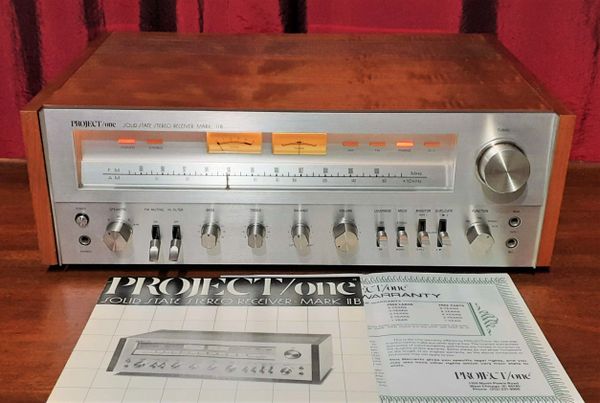 Project One Mark IIB Stereo Receiver Silver 1979
Project One Mark IIB Stereo Receiver Silver 1979. Tested in excellent working condition. Graded cosmetically at NM (Near Mint) for only light signs of age and wear. Comes with the original OEM owner's manual. Manufactured by Pioneer (nearly identical to Pioneer SX-750) as "house brands" in the 70s for Playback Stereo Store (Chicago) and Pacific Stereo Store (New York). The Project One Mark IIB is a handsome Hi-Fi retro classic with plenty of performance. The Mark IIB offers clean and dependable sound with a handsome brushed aluminum console layout.  
Specifications
Year: 1979
Country: Japan
Tuning range: FM, MW
Power output: 50 watts per channel into 8Ω (stereo)
Frequency response: 10Hz to 50kHz
Total harmonic distortion: 0.1%
Damping factor: 30
Input sensitivity: 5mV (mic), 2.5mV (MM), 150mV (DIN), 150mV (line)
Signal to noise ratio: 70dB (MM), 90dB (line)
Output: 150mV (line), 30mV (DIN)
Speaker load impedance: 4Ω (minimum)
Semiconductors: 1 x FET, 7 x IC, 42 x transistors, 40 x diodes
Dimensions: 480W  x 170H x 328D
Weight: 24lbs
- All Checkered Records Stereo Equipment Is Cleaned & Tested and is Guaranteed For 10 Days After Receipt!
- Local Pick-up available Aurora, IL 60503
- $65 Shipping In Continental US Only