Talking Heads The Name Of This Band Is Talking Heads First Year Pressing 1983 US Sire 2SR 3590 Vintage Vinyl Record Album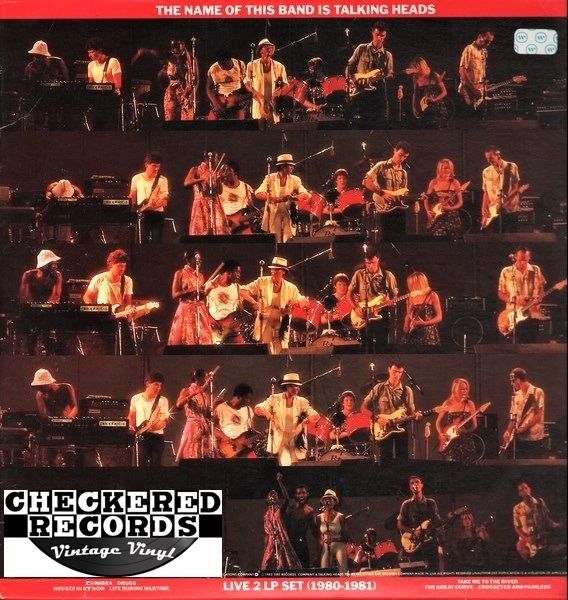 Talking Heads The Name Of This Band Is Talking Heads First Year Pressing 1983 US Sire 2SR 3590 Vintage Vinyl Record Album
Talking Heads The Name Of This Band Is Talking Heads
Label/Cat#: Sire 2SR 3590
Format:
2 x Vinyl, LP, Album
Country: US
Released: 1982
Style:
New Wave, Art Rock, Funk, Pop Rock
The Name Of This Band Is Talking Heads 1977-1979
A3
Don't Worry About The Government   3:08
B4
Building On Fire   3:36
B5
Memories (Can't Wait)   3:58
The Name Of This Band Is Talking Heads 1980-1981
C3
Houses In Motion   7:00
C4
Life During Wartime   5:03
D1
The Great Curve   6:58
D2
Crosseyed And Painless   7:05
D3
Take Me To The River   6:43
Bar Code: None
Media (stock photo): NM-
Sleeve (stock photo): NM- (with inner sleeve)
7 Day 100% Satisfaction Guarantee!
$4 FLAT RATE SHIPPING 1-100 ALBUMS USPS Media Mail!!!
Orders of $50 or more require customer signed delivery confirmation.
DON'T SEE IT ONLINE? WE GOT IT....331-725-1218 or info@checkeredrecords.com
Checkered Records offers the best record albums for sale online. We make sure all our used vinyl records are top quality. All of our vintage record albums come with a seven day guarantee. If you're looking for used records for sale online then check out Checkered Records for the best in vintage vinyl records for sale online!