Technics SL-Q202 Semi-Automatic Quartz Phase Locked Direct Drive Turntable 1981 Silver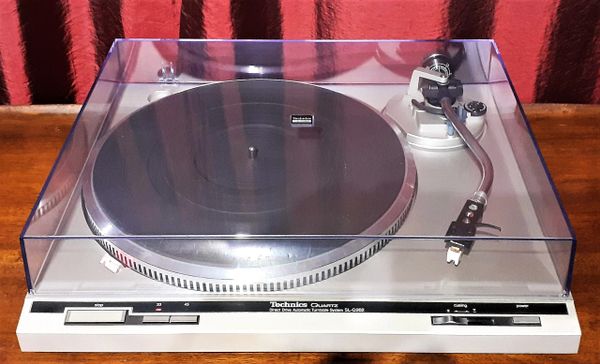 Technics SL-Q202 Semi-Automatic Quartz Phase Locked Direct Drive Turntable 1981 Silver
Technics SL-Q202 Semi-Automatic Quartz Phase Locked Direct Drive Turntable. Cleaned and tested in excellent operating condition. Graded NM (Near Mint) for only light signs of age and wear. The SL-Q202 offers excellent sound reproduction, clean torque, smooth controls and killer vintage Hi-Fi good-looks! BONUS: this amazing turntable comes with a Pickering TL-3 cartridge as well... Score!
Specifications
Year: 1981
Country: Japan
Platter: 312mm aluminum die-cast
Motor: ultra low speed brush-less DC
Wow and flutter: 0.025% WRMS
Rumble: -78dB
Tonearm type: S-shaped, Static Balanced Tube
Effective length: 230mm
Overhang: 15mm
Dimensions: 430 x 106 x 375mm
Weight: 6.5kg
- All Checkered Records Stereo Equipment Is Cleaned & Tested and is Guaranteed For 10 Days After Receipt!