The Mothers Of Invention Freak Out! 1973 US Verve Records V6-5005-2 Vintage Vinyl Record Album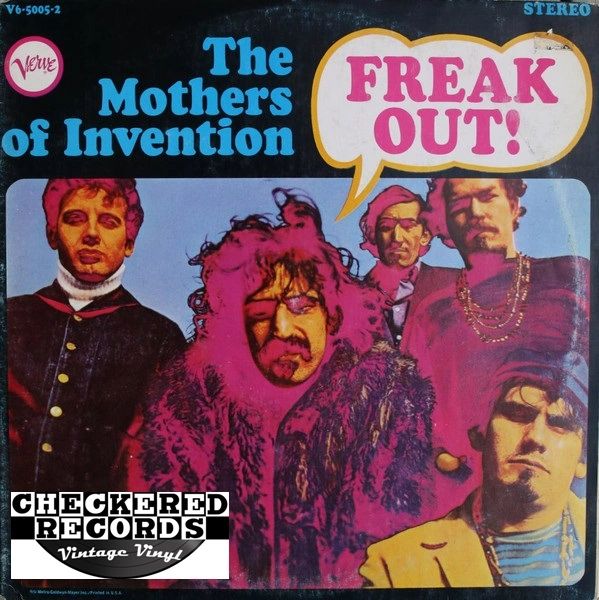 The Mothers Of Invention Freak Out! 1973 US Verve Records V6-5005-2 Vintage Vinyl Record Album
The Mothers Of Invention Freak Out!
Label/Cat#: Verve Records V6-5005-2
Format: 2 × Vinyl, LP, Album, gatefold, RE
Country: US
Released: 1972
Genre: Art Rock
Style: Musique Concrète, Avantgarde, Psychedelic Rock, Experimental, Parody
Tracklist
A1
Hungry Freaks, Daddy
3:27
A2
I Ain't Got No Heart
2:30
A3
Who Are The Brain Police?
3:22
A4
Go Cry On Somebody Else's Shoulder
3:31
A6
How Could I Be Such A Fool
2:12
B2
You Didn't Try To Call Me
3:17
B3
Any Way The Wind Blows
2:52
B4
I'm Not Satisfied
2:37
B5
You're Probably Wondering Why I'm Here
3:37
C1
Trouble Every Day
6:10
Help, I'm A Rock (Suite In Three Movements)
8:37
C2.1
1st Movement: Okay To Tap Dance
C2.2
2nd Movement: In Memoriam, Edgar Varese
C2.3
3rd Movement: It Can't Happen Here
The Return Of The Son Of Monster Magnet (Unfinished Ballet In Two Tableaus)
12:17
D1.1
I. Ritual Dance Of The Child Killers
D1.2
Ⅱ. Nullis Pretii (No Commercial Potential)
Bar Code: None
Media (stock photo): NM
Sleeve (stock photo): NM-
7 Day 100% Satisfaction Guarantee!
$4 FLAT RATE SHIPPING 1-100 ALBUMS USPS Media Mail!!!
Orders of $50 or more require customer signed delivery confirmation.
DON'T SEE IT ONLINE? WE GOT IT....331-725-1218 or info@checkeredrecords.com
Checkered Records offers the best record albums for sale online. We make sure all our used vinyl records are top quality. All of our vintage record albums come with a seven day guarantee. If you're looking for used records for sale online then check out Checkered Records for the best in vintage vinyl records for sale online!