Vintage 1987 Vector Research VRX-6200R AM/FM Stereo Receiver With Turntable Hook Up PHONO Inputs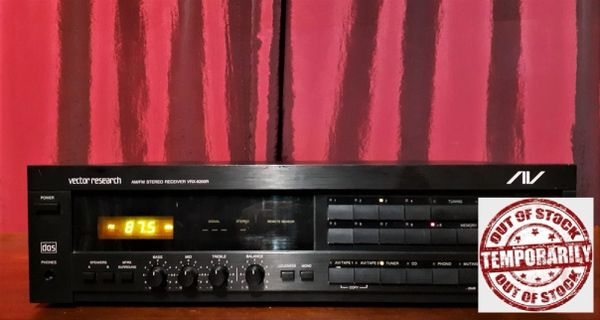 Vintage 1987 Vector Research VRX-6200R AM/FM Stereo Receiver With Turntable Hook Up PHONO Inputs
Vintage 1987 Vector Research VRX-6200R AM/FM Stereo Receiver With Turntable Hook Up PHONO Inputs. Tested and in excellent working condition! This classic 1980s Vector Research receiver offers great features and is oozing with late 80s style. Graded NM- (Near Mint Minus) for SS# etching on the back and minor cosmetic wear. The SS# has/will be altered before shipping for the protection of our selling customers. This unit has been cleaned and thoroughly tested to ensure premium play!
Year: 1987
Country: Taiwan
Power Consumption: AC, 120 Volts 60 Hz
Channels: 2 Channel (Stereo)
RMS Power (Watts Per Channel):
65 x 2 @ 8Ω (stereo) 
Tuner Type:
FM, AM (87.5 low frequency)
Dimensions: 17W X 13D X 5H
Weight: 18.12 lbs
Accessories:
Remote Control (not included)
- All Checkered Records Stereo Equipment Is Cleaned & Tested and is Guaranteed For 10 Days After Receipt!
- Local Pick-up available Aurora, IL 60503
- $50 Shipping In Continental US Only