Vintage Eminent Technology LFT 8 VIII Hybrid Linear Field Transducer Loudspeaker With Manual Screens & Stands LOCAL PICK UP ONLY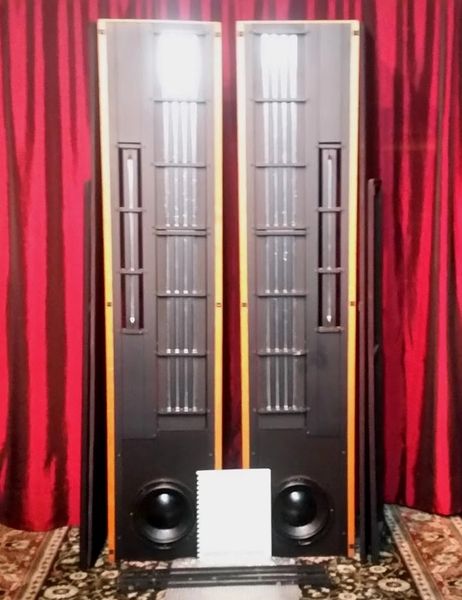 Vintage Eminent Technology LFT 8 VIII Hybrid Linear Field Transducer Loudspeaker With Manual Screens & Stands LOCAL PICK UP ONLY
Amazing set of Vintage Eminent Technology LFT 8 VIII Hybrid Linear Field Transducer Loudspeaker With Manual Screens & Stands. Jaw dropping sound from these classic high end speakers. In excellent condition with only light cosmetic issues. This beautiful set comes with all screens, manual and speaker stands. One small hole in front screen and minor staining on bottom cabinet. Amazing speakers! 
Country: USA
Power Requirements 75 Watts minimum
Sensitivity: 84 dB (pink noise, 20 - 20kH) at 1 watt/1 meter (2.83 V)
Frequency Response: 25 Hz-20 kHz ±4 dB (typical room)
Phase Accuracy: ± 20­ 100 Hz -31 kHz
High Frequency Level: Flat, - 6dB, -12dB at 20kHz smooth roll off
Impedance: 8 Ohm rating
Maximum SPL: 105 dB at 1 meter
Dimensions:  13" wide by 60" high by 1" thick
Finish: Black/ Oak
- All Checkered Records Stereo Equipment Is Cleaned & Tested and Is Guaranteed For 14 Days After Receipt!
- Local Pick Up Only (US Continental Shipping marked at $5000)