Vintage Nelson Riddle Exclusive Original Television Soundtrack Album From The Batman Television Series First Year Pressing Monaural 1966 US 20th Century Fox Records TFM 3180 Vintage Vinyl LP Record Album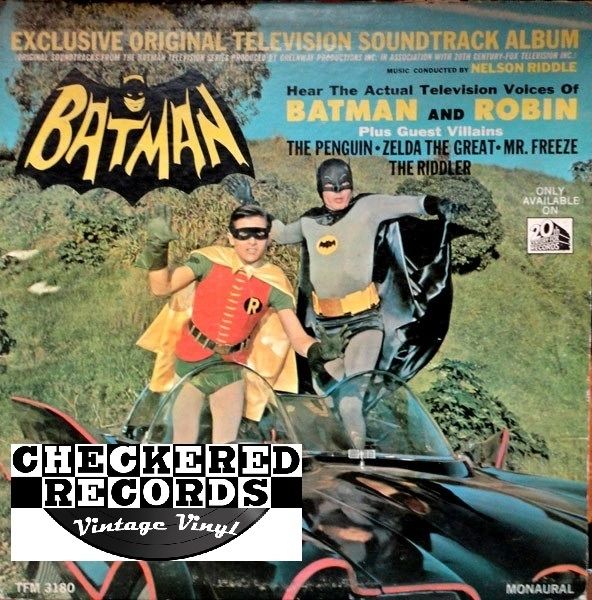 Vintage Nelson Riddle Exclusive Original Television Soundtrack Album From The Batman Television Series First Year Pressing Monaural 1966 US 20th Century Fox Records TFM 3180 Vintage Vinyl LP Record Album
Artist:Nelson Riddle Batman Soundtrack
Album: Exclusive Original Television Soundtrack Album From The Batman Television Series
Label: 20th Century Fox Records
Cat#: TFM 3180
Matrix#: Side 1- TFM 3180 A RL LW Side 2- TFM 3180 B RL LW
Format: LP MONO
Country: US
Released: 1966
Genre: Soundtrack
Pressing Year: 1966
Media (stock photo): NM- (very light dust jacket wear, light dust jacket paper staining in some areas, plays wonderfully)
Sleeve (stock photo): NM (slight corner creases top left and top right)
$4 FLAT RATE SHIPPING 1-100 ALBUMS USPS Media Mail!!!

Tracklist
A1 Batman Theme
A2 Batman Riddles
A3 Batus! -A-Go! Go! - Or - (I Shouldn't Wish To Attract Attention)
A4 Two Perfectly Ordinary People - Or - (!!!)
A5 Holy-Hole-In-The-Doughnut - Or - (Robin, You've Done It Again!)
A6 Batman Pows The Penguin - Or - (Aha, My Fine-Feathered Finks!)
B1 To The Batmobile!
B2 Batman Blues
B3 Holy Flypaper
B4 Batman Thaws Mr. Freeze - Or - (That's The Way The Ice-Cube Crumbles!)
B5 Gotham City
B6 Zelda Tempts Batman - Or - (Must He Go It Alone????)