1986 Yamaha T-32 AM/FM Stereo Tuner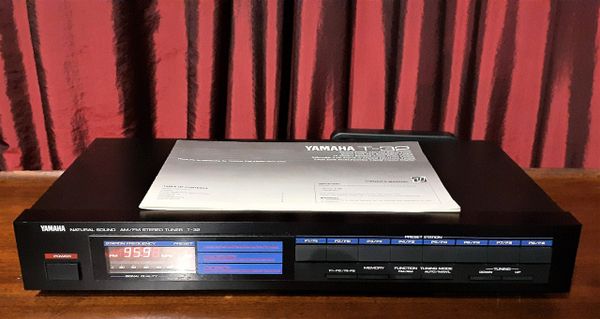 1986 Yamaha T-32 AM/FM Stereo Tuner
Yamaha T-32 AM/FM Stereo Tuner. Cleaned and tested fully operational. Cosmetically graded NM (Near Mint) for mild signs of age and wear. Comes with original owner's manual and AM antenna. The T-32 offers quality and dependability with classic 1980s styling. A bright vibrant display and easy to use control panel make the T-32 an excellent tuner for anyone looking to complete their 80s stack system.
Specifications
Year: 1986
Country: Japan
Type: Mono/Stereo Tuner
Tuning Bands: FM, MW
Tuning Scale: Digital
FM Tuning Range: 87.5 to 107.9 MHz
MW Tuning Range: 530 to 1610 kHz
Sensitivity: 0.8uV (FM), 300uV (MW)
Signal to Noise Ratio: 76dB (FM), 50dB (MW)
Distortion: 0.2% (FM), 0.3% (MW)
Selectivity: 85dB (FM), 24dB (MW)
Frequency response: 30Hz to 15kHz (FM)
Output: 500mV (FM), 150mV (MW)
Dimensions: 435 x 72.5 x 260mm
Weight: 2.3kg
- $35 shipping anywhere in the Continental US
- All Checkered Records stereo equipment is cleaned & tested and guaranteed for 10 days after receipt.