1978 PAIA 7710 Stereo Mixer Synth Mixer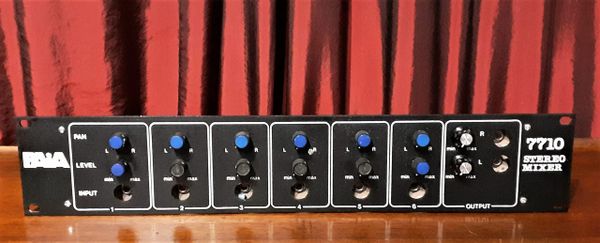 1978 PAIA 7710 Stereo Mixer Synth Mixer
1978 PAIA 7710 Stereo Mixer Synth Mixer. Cleaned and tested operational. Cosmetically graded VG (Very Good) for moderate signs of age and wear. Arguably rarer than the Holy Grail, the PAIA 7710 rack-mount mixer was originally sold as an upgrade for the PAIA Series 6700/7700 analog synthesizers & studio equipment. The 7710 six input mixer that is specifically designed for vintage PAIA equipment. The 7710 is the best way to complete your coveted PAIA synth system. 
Specifications
Year 1978
Country: USA
Six inputs
Dual MASTER Left/Right channel and volume controls

Six dual Left/Right channel and volume controls
PAIA three pin plug connection
- $50 shipping anywhere in the Continental US
- All Checkered Records stereo equipment is cleaned, tested and guaranteed for 10 days after receipt.