Definitive Technology BP-10 Bipolar Floor Standing Tower Speakers Local Pick Up Item Aurora IL 60503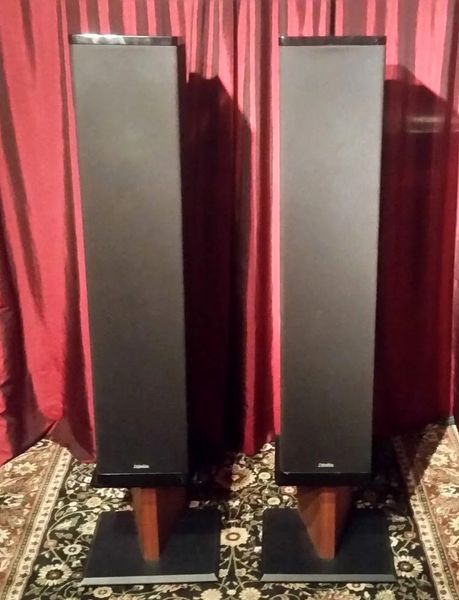 Definitive Technology BP-10 Bipolar Floor Standing Tower Speakers Local Pick Up Item Aurora IL 60503
Definitive Technology BP-10 Bipolar Floor Standing Tower Speakers offer exceptional performance for discerning audio lovers. The BP 10 is a bipolar system (hence the "BP" designation) containing a pair of identical two-way speakers. One faces forward conventionally, and the other is on the rear panel, facing backward. Each consists of a 6-1/2-inch woofer and a 1-inch dome tweeter, with the woofer located at the top of the cabinet and the tweeter just below it. The BP 10 is a slender columnar speaker measuring 42 inches high, 9 inches wide, and 11-1/2 inches deep and weighing about 60 pounds. Its exterior is completely black, and the four sides are covered by a fabric sleeve that fits snugly around the enclosure. The wood base and top plate have a glossy lacquer finish, gold-plated multiway terminals. Tested and in excellent NM (Near Mint) condition. Minor abrasion to top lacquer plate. Excellent speakers! Stands not included. Local Pick-up Item Aurora IL 60503.
Year: 1994
Country: USA
Power Capacity:  20-300 Watts
Tweeter: Two 1" dual chamber aperiodic dome tweeters
Bass/ Mids: Two 6.5" mineral-filled homopolymer-coned cast magnesium basket bass/mids
Nominal Impedance: 6 ohms (8ohm compatible)
System Type: Bipolar
Frequency Response:  20 - 28khz
Efficiency:  89 dB
Dimensions: 42H X 11.5D X 9W
Weight: 60 lbs each
- All Checkered Records Stereo Equipment Is Cleaned & Tested and is Guaranteed For 10 Days After Receipt!