Epicure Model One Amplifier Epicure Model 1 Power Amp 1973 Walnut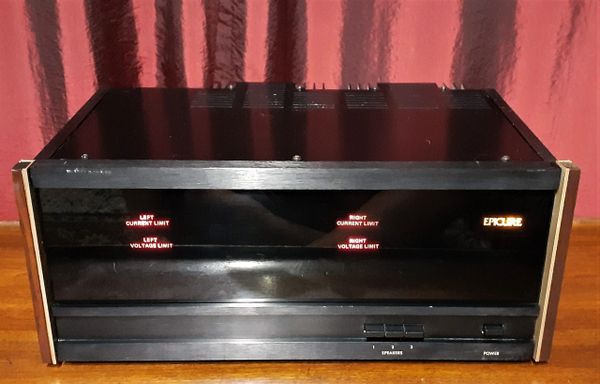 Epicure Model One Amplifier Epicure Model 1 Power Amp 1973 Walnut
Epicure Model One Amplifier Epicure Model 1 Power Amp 1973 Walnut. Cleaned and tested in excellent condition. Graded VG+ (Very Good Plus) for mild to moderate signs of age and wear. The MODEL ONE was one of the truly great and rare amps of its day. Classic black glass face with real walnut trimmed side panels. The MODEL one delivers on top-notch pure clean power and understated vintage Hi-Fi good look!
Specifications
Year: 1973
Country: US
RMS Power: 125 watts rms into 8 ohms, both channels driven 20-20,000 Hz at or below 0.2% THD or IM (typically over 150 watts)
Total Harmonic Distortion: 0.2% rated, typical below 0.05 into 8 ohms
IM Distortion: 0.2% rated, typical below 0.03 into 8 ohms
Frequency Response: 20 to 20k Hz, +0, -0.1 dB, 10 to 100k Hz, +/- 0.5 dB, 10 to 180k Hz, + 0, -3 dB
Rise Time: Better than 1.5 microsecond
Damping Factor: 100 or greater
Slewing Rate: > 17 v/microsecond
Signal to Noise Ratio: > 100 dB at full output, typical > 110 dB
Phase Response: maximum deviation 15 degrees, 20 - 20k Hz into 8 ohms
Input Impedance: 10k ohms (input level at maximum)
Input Capacitance: 50 picofarads
Input Sensitivity: 1 volt for 125 watts
Stability: Unconditionally stable from short to open
Finish: Black Glass Face / Walnut Handles
Dimensions: 18 1/2" x 12 1/2" x 7 1/2"
Weight: 58 lbs
- All Checkered Records Stereo Equipment Is Cleaned & Tested and is Guaranteed For 10 Days After Receipt!
- Local Pick-up available Aurora, IL 60503
- $85 Shipping In Continental US Only