The Mothers Of Invention Absolutely Free 1972 US Verve Records V6-5013 Vintage Vinyl Record Album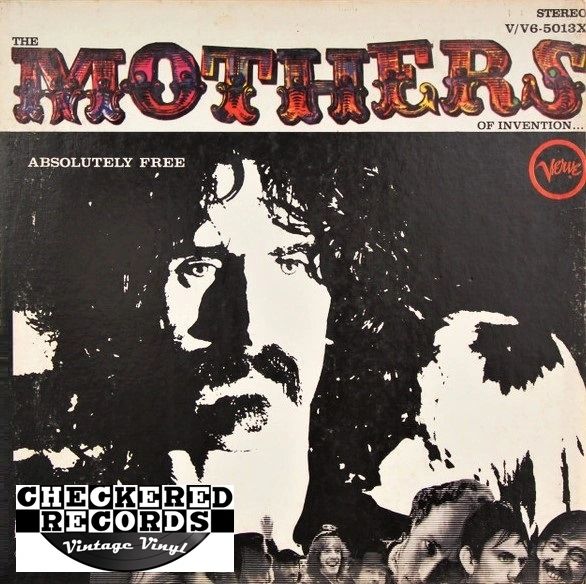 The Mothers Of Invention Absolutely Free 1972 US Verve Records V6-5013 Vintage Vinyl Record Album
The Mothers Of Invention Absolutely Free
Label/Cat#: Verve Records V6-5013, MGM Records
Format:
Vinyl, LP, Album, Stereo, Gatefold, White Label Presswell Copy
Country: US
Style:
Blues Rock, Psychedelic Rock, Avantgarde, Prog Rock
A2
The Duke Of Prunes
2:12
A4
The Duke Regains His Chops
1:45
A5
Call Any Vegetable
2:19
A6
Invocation And Ritual Dance Of The Young Pumpkin
6:57
A7
Soft-Sell Conclusion & Ending Of Side #1
1:40
B2
Status Back Baby
2:52
B3
Uncle Bernie's Farm
2:09
B4
Son Of Suzy Creamcheese
1:33
B5
Brown Shoes Don't Make It
7:26
B6
America Drinks & Goes Home
2:43
Bar Code: None
Media (stock photo): NM+
Sleeve (stock photo): NM
7 Day 100% Satisfaction Guarantee!
$4 FLAT RATE SHIPPING 1-100 ALBUMS USPS Media Mail!!!
Orders of $50 or more require customer signed delivery confirmation.
DON'T SEE IT ONLINE? WE GOT IT....331-725-1218 or info@checkeredrecords.com
Checkered Records offers the best record albums for sale online. We make sure all our used vinyl records are top quality. All of our vintage record albums come with a seven day guarantee. If you're looking for used records for sale online then check out Checkered Records for the best in vintage vinyl records for sale online!